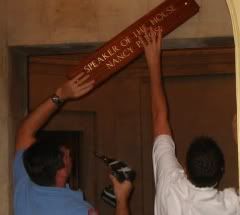 Noontime today in Washington DC the 112th Congress opened for business. Congratulations to Senator Pat Toomey, Congressman Mike Fitzpatrick, Congressman Pat Meehan, Congressman Lou Barletta, and Congressman Jim Gerlach.
The above image sums up the mood of this day exquisitely – what mere words could enhance the message of the photo?  Oh, there were words that nearly brought tears of joy. dmataconis Twittered: "Alan Grayson is no longer a United States Senator". Gah! I still get choked up reading this tweet:
Now it is time for the 112th Congress to roll up their sleeves and get to work fixing what is broken. Good luck!