Looking at Occupy Philly – Updated
OCCUPY PHILLY
1. To fill up (time or space): a lecture that occupied three hours.
2. To dwell or reside in.
3. To hold or fill (an office or position).
4. To seize possession of and maintain control over by or as if by conquest.
Occupy Philly is heading into its third week of camping out at Dilworth Plaza on the west side of City Hall. I've put together an overview of Occupy Philly focusing on who supports this occupation, what Philly occupation looks like and why are they here.
Occupy Philadelphia shares the same general idea of Occupy Wall Street, but there are stark differences between Philadelphia and the majority of Occupy (fill in the city) in key areas:
1. Violence: Violent actions are not as resolved to the surface as they are in many Occupy gatherings around the nation. That is not to say it can't happen but the cast of characters that compose Occupy Philly tend to express their violent ideations through artwork rather than physical altercations.
2. Racism: I would have liked to have reported that racism is as likely as violence within this group. Unfortunately, I read the account of a rather heinous racial attack against black supporters of Occupy Philly. Feminist and Media Activist, Jamia, recounts  a shocking exchange: "Saturday,  two sisters were called Niggers by two of the volunteers at Occupy Philadelphia at the cell-phone charging stations.  They were also told to go back to Africa, and that each white man should own a slave."   While racism and anti-Semitism can be found at other Occupy events; I was saddened to discover it within the Philly protest participants.  In my years covering Philly protests, I've never encountered such blatant racism from Philly protesters. I am going to assume this is an exception, not the norm.
3. More signs and tents then supporters: I received the following email from the director of a Chester County left wing hate group describing the dilemma faced by Occupy Philadelphia: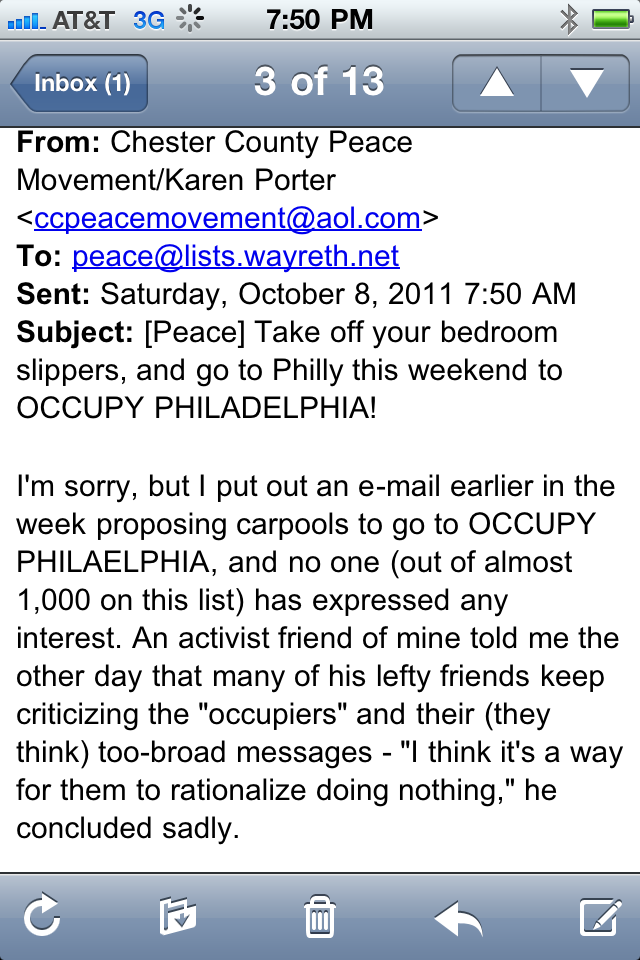 Perhaps less people is a good thing.  While there is no permit for the protesters to occupy Dilworth Plaza, it really doesn't matter.  Shortly, Occupy Philly will be evicted from Dilworth Plaza as the area is scheduled for a long overdue renovation.
4. Theatrics. This is where I believe Occupy Philly stands out from the rest.  Without the violence or numbers, Occupy Philly makes up for it with superb theatrical performances and artistic signs. On some levels, this occupation is quite entertaining.
Who are these people?
I would start by describing them as 99% white.  UPDATE: Interesting survey results on the makeup of OWS. Occupy Philly is composed of a conglomeration of  perpetually disaffected college students seeking answers and older semi professional protesters.  As I wandered through the encampment, I recognized a face or two from previous protests around Philly. In essence, Occupy Philly are peaceful, entertaining fringe agitators letting their freak flag fly at Occupy Philly. So sit back and enjoy the show!
In case you have no plans to visit an Occupy event in your lifetime, I've put together a photographic tour of Occupy Philly for your perusal highlighting the basic structures that can be found in an Occupy occupation.
Welcome to Tech Support central! Inside the main tent are work stations with power and Internet access for your laptop. The charging station is available to anyone in need of charging their mobile device. Forgot the power cable to your mobile device?  No problem. You can peruse the collection of cables to see if there is one compatible for your device. The big question is who is footing the bill for power and Internet service?  I didn't get a clear answer, so a safe bet would be Philly taxpayers.
Food Station or as I nicknamed it Salmonella Central with a touch of Staph Aureus.
The Library is where you can catch up on the latest Marxist working theory or gain insight into the evil patriarchal American culture.
Sanitation Tent. What more can I say?
At the Anger Management area you can work out your frustrations of living in a capitalist society while daydreaming about the utopia of a government-free society.
Confessional booth where you can share profound thoughts on live streaming video. You never can tell who may be watching the live feed or how many are wondering who is footing the bill for this new media confessional.
What do the protesters want and why are they occupying public space? Two simple questions that are not easy to answer. It is not just me asking these questions, supporters of Occupy Philly are having difficulty grasping the concept. During an open mic session in Philly a protester was looking for answers to these questions as well:
Below are a sampling of my collection of photos of signs from Occupy Philly, you can view my entire set of photos on Flickr.  Based upon my experience with Occupy Philly, I've been able to extrapolate a few general themes.
A recent poll from a Democrat strategist found participants of OWS supporting  this movement as the left's answer to the Teaparty and to use the organizational energy to affect political change. This may be difficult to accomplish since their message is confusing and public perception of the movement is irreparably damaged by numerous reports of arrests, violence, racism and Antisemitism.
 Don't take just my word;  see for yourself what messages are being broadcast at Occupy Philly. Below are a selection of my photos from Occupy Philly.  I suggest you view the full resolution of the message boards to better appreciate the myriad of issues written on them. The full set of photos can be found on Flickr.
In the end, OWS/Occupy Philly's impact will be decided on the content of their character and actions and not by occupation. My role as a blogger is to document and broadcast their actions for public perusal. Nothing in my reports will be sugarcoated, all videos and photos will be made available for viewing and commenting. I will leave it up to the American public to express their opinion of OWS via the ballot box come November 2012.
What are your thoughts on Occupy Philly and the OWS movement in general? Feel free to leave a comment or express your opinion using the approved hand signals described in the video below.
Huge hat tip to John and Morgen from Verum Serum for their detailed documentation of national occupy events.