Paul Ryan – GOP Path to Prosperity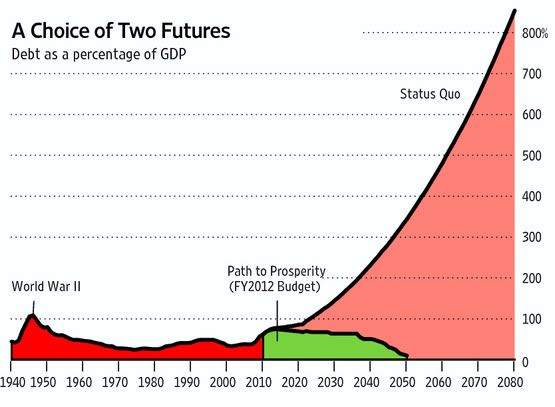 Oh, this is going to give liberal Democrats migranes:
Major components of the plan are highlighted in the WSJ article:
• Reducing spending: This budget proposes to bring spending on domestic government agencies to below 2008 levels, and it freezes this category of spending for five years. The savings proposals are numerous, and include reforming agricultural subsidies, shrinking the federal work force through a sensible attrition policy, and accepting Defense Secretary Robert Gates's plan to target inefficiencies at the Pentagon.
• Welfare reform: This budget will build upon the historic welfare reforms of the late 1990s by converting the federal share of Medicaid spending into a block grant that lets states create a range of options and gives Medicaid patients access to better care. It proposes similar reforms to the food-stamp program, ending the flawed incentive structure that rewards states for adding to the rolls. Finally, this budget recognizes that the best welfare program is one that ends with a job—it consolidates dozens of duplicative job-training programs into more accessible, accountable career scholarships that will better serve people looking for work.
As we strengthen and improve welfare programs for those who need them, we eliminate welfare for those who don't. Our budget targets corporate welfare, starting by ending the conservatorship of Fannie Mae and Freddie Mac that is costing taxpayers hundreds of billions of dollars. It gets rid of the permanent Wall Street bailout authority that Congress created last year. And it rolls back expensive handouts for uncompetitive sources of energy, calling instead for a free and open marketplace for energy development, innovation and exploration.
• Health and retirement security: This budget's reforms will protect health and retirement security. This starts with saving Medicare. The open-ended, blank-check nature of the Medicare subsidy threatens the solvency of this critical program and creates inexcusable levels of waste. This budget takes action where others have ducked. But because government should not force people to reorganize their lives, its reforms will not affect those in or near retirement in any way.